Boat Lifts
One of the accessories that many people add to their Free State docks are boat lifts. This is a device which can completely lift your boat out of the water when not in use. You spend a lot of money for your watercraft. Keeping your boat elevated prevents the banging around from wake and bad weather, it also avoids algae growth and water corrosion. A lift is a valuable addition to your dock that is worth it's weight in gold.
We have tested them all and have decided to offer the HydroHoist® lift exclusively.
HydroHoist® lifts come in configurations of 4400 lbs, 6600lbs, 8800 lbs, and also offer a 5000 lb shallow water lift. A HydroHoist® lift can accommodate any size boat on Smith Lake.
HydroHoist® is the oldest and largest hydro-pneumatic boatlift manufacturer in the world.Request a quote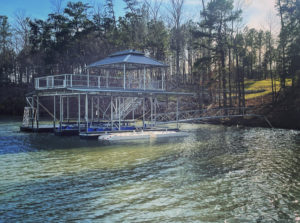 ---
Ports for Your PWC (personal watercraft)
Our PWC ports (aka JetSki lifts, Sea-Doo floats, etc.) are built tough for extreme performance and durability and are foam filled for a virtually unsinkable investment. They are the easiest drive on/roll off port on the market and accommodate any type of personal watercraft. Two will fit perfectly together in a standard boat slip or they can be mounted on the side of your dock.